Regular price
$16.99 USD
Sale price
$13.99 USD
Unit price
per
Sale
Sold out
The sustainable and convenient alternative to traditional liquid laundry detergent.
Tough on stains - These sheets deliver the powerful clean you need in a small sheet. Eco sheets can even be used for spot treatments by tearing a small piece and wetting it over the stain to get deep into the fibers and leave it like new.
Easily Dissolves - Our Eco Sheets dissolve within seconds in any cycle, hot or cold. They work in all machines, including HE. Eco sheets are even effective for hand-washing! Safe to use with septic and greywater systems. Eco Sheets are concentrated, premeasured, and low-sudsing.
Save Space - Old fashion detergent can be bulky and hard to store. Earth Breeze packaging is lightweight and compact. 720 loads of Laundry Sheets can fit in a standard 60-load plastic jug!
Mess Free - The pre-measured eco-sheets are easy to use and prevent messy laundry goo spills. This saves you time, and energy, while preventing over-use.
Biodegradable and Compostable Packaging - Sheets come in a biodegradable plastic-free cardboard packaging. Eliminating the awkward, wasteful, single-use plastic jug and combating the 700 million jugs that wind up in our oceans and landfills every year..
A Clean With A Positive Impact-  Buy 1, Give 10 Program: with every purchase of Earth Breeze Eco Sheets, we donate 10 loads of laundry detergent to women's shelters.  Proud Member of 1% For The Planet.  Carbon Neutral from start to finish.  Multiple regeneration efforts of tree plantings and beach clean ups

The Gist- Eco sheets dissolve 100% in Hot or Cold Water Washes, works in All Machines Including HE, Plastic-Free Biodegradable Packaging, Septic and Grey Water Safe, Paraben Free, Vegan & Cruelty Free, Hypoallergenic & Dermatologist Tested, Phthalate Free, Phosphate Free, Bleach & Dye Free
Use instructions:
Half Sheet: Regular loads - 1/2 drum full 
One Full Sheet: Large loads - 3/4 drum full
Two Sheets: Heavily soiled or extra-large loads - Full Drum
Share
View full details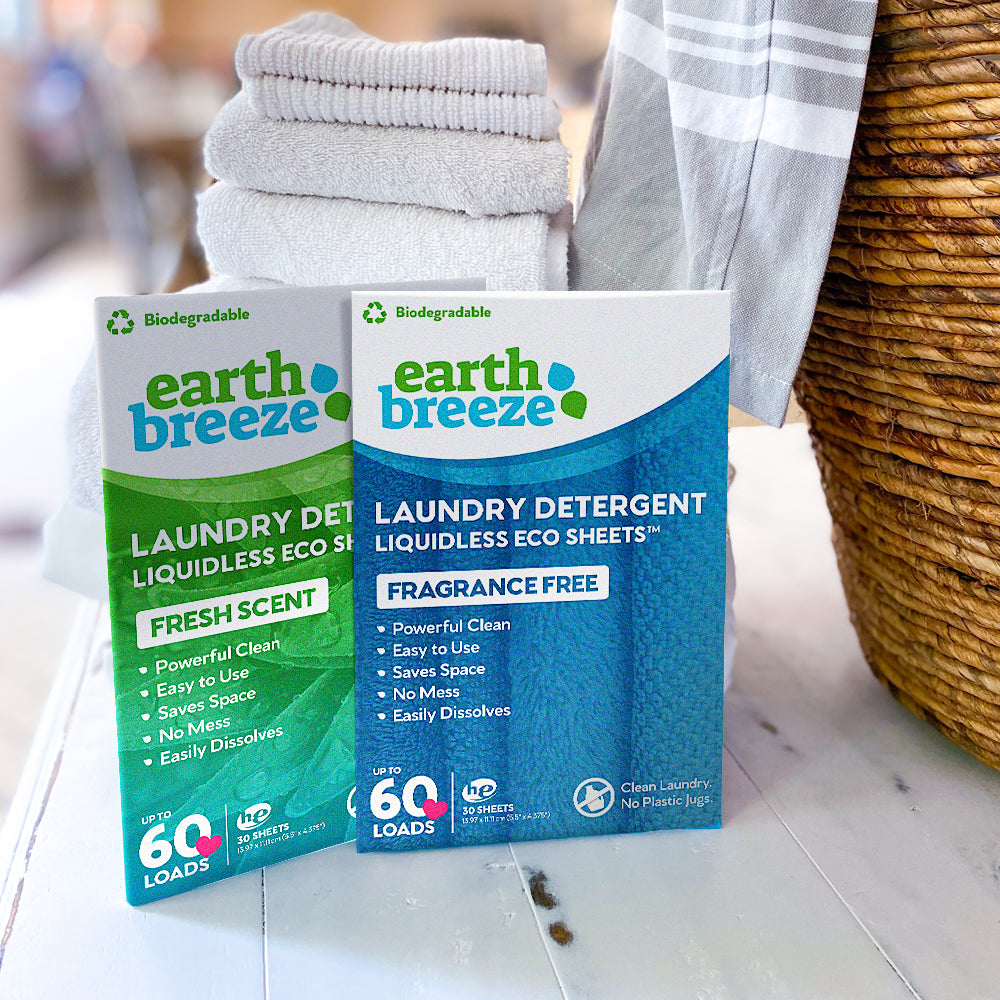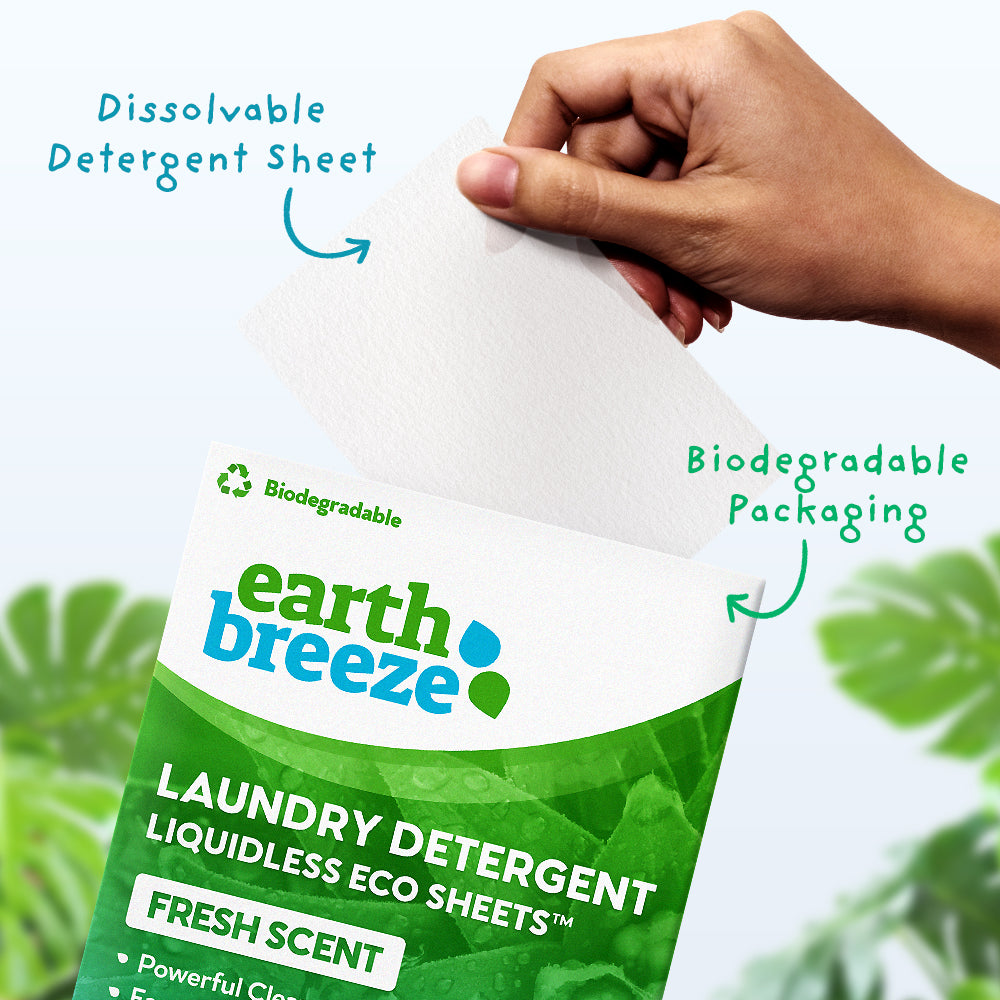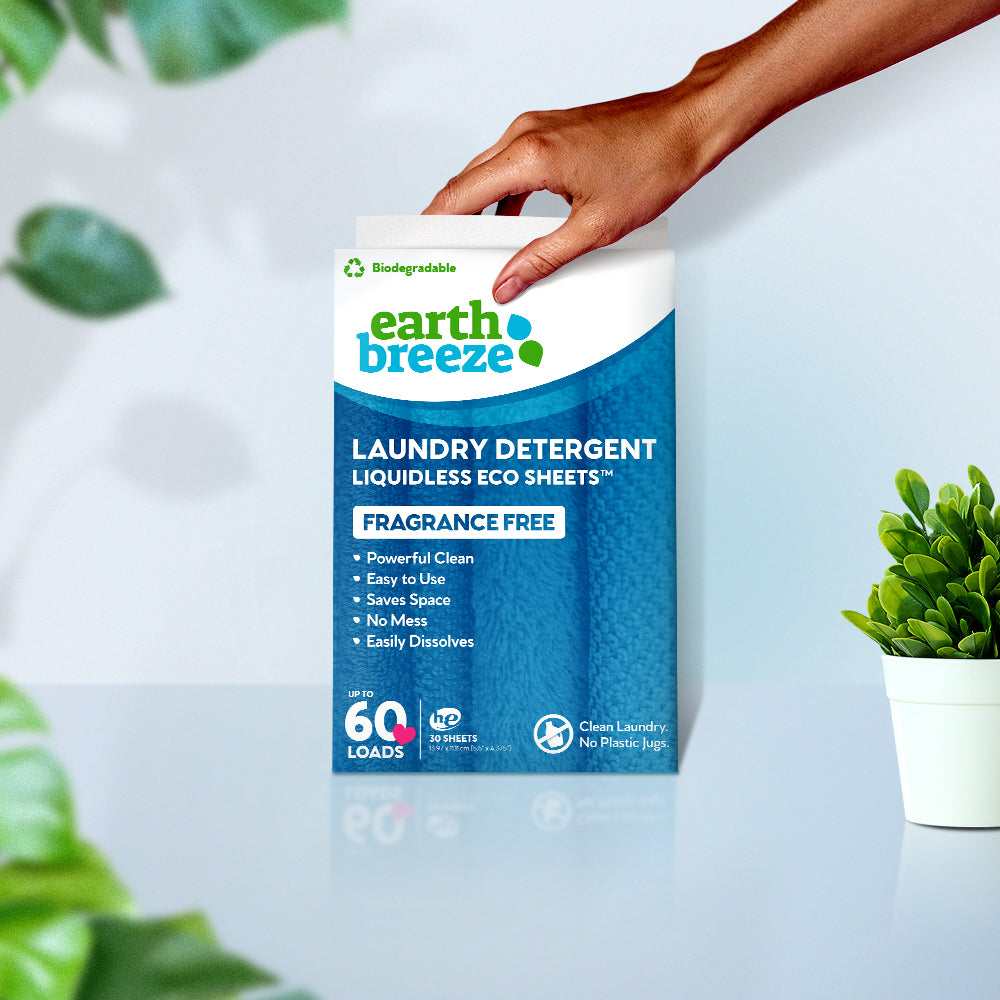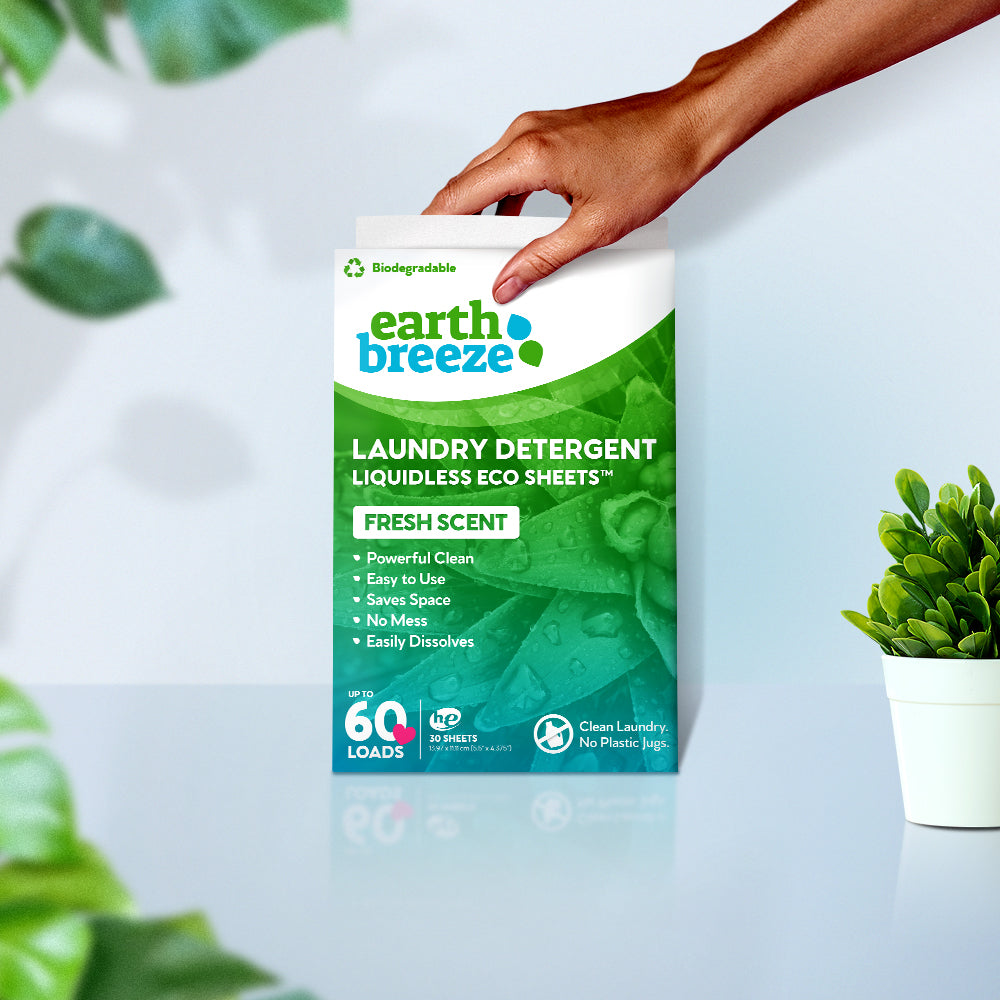 LOVE these! I do so much laundry and it kills me to have to buy plastic jugs or pods. These sheets smell amazing and I love the way they clean.
Super easy to do laundry and they work!
They work! we use them, and we are very happy that they get clothes clean, and we don't have that huge plastic container to recycle to toss in the garbage.
oh and another plus, they are so easy to store, they can be in a drawer taking no space at all, no container can say that.
less garbage!! clean clothes:)
These little laundry towels are great. They will clean your clothes and won't leave you with a plastic container to recycle or throw away. The laundry towels also come in a cardboard envelope, which can be recycles with normal paper recycling.
Definitely encourage everyone to use...
Let customers speak for us